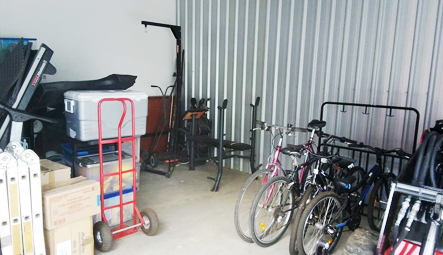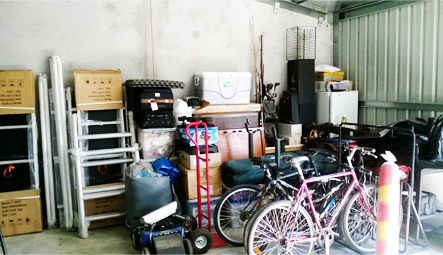 Please call us to discuss the appropriate methods for putting goods in storage. Our facility is purpose built which simplifies the way in which your goods may need to be covered and protects them from damage that often occurs if they are stored in an unsuitable shed or container.

Our facility is regularly sprayed for insects and spiders. Bating for rodents is also placed throughout the facility. Please consult the facility operator if you wish to spray or place further bates as these can be counterproductive to pest control as well as create potential health issues or facility damage.
Tips for Storing Items
Packing your items properly to begin with will save you time and ensure your goods are maintained in the best possible condition.
Make use of the specialist packaging materials supplied by your removalist and available from packaging outlets.
Ensure all items are clean and dry before storing.
Furniture, Clothing and Personal Goods
Clothing and personal goods should be packed in strong secure cartons.
Don't move wardrobes, drawers etc while full. Only fill them when they are in place and fully assembled.
Remove legs from bed bases, tables etc. (avoids damage and saves space).
Vacuum food crumbs from lounges to prevent attracting vermin.
Stack chairs seat to seat with cloth or paper separating them.
Place a cover sheet over all furniture (not plastic).
Whitegoods and vehicles
Ensure all white goods are empty, clean and dry before storing.
Leave doors slightly ajar to prevent mould and mildew.
Placing a deodoriser inside fridges or freezers is a good way to maintain freshness.
Fridges, washing machines, lawn mowers etc should be placed on cardboard to prevent staining of concrete flooring. These items often leak oil or detergents when not used regularly.
Vehicles have several areas that commonly leak oil when stored. Place cardboard under engines, gearbox's and differentials and check regularly for leaks.
Please remember that you are responsible to clean or pay for the removal of any spillage/stains left in the storage unit. This can only be done using solvents approved by the facility owner as some cleaning agents may cause damage to the concrete flooring.
Glass and Breakables
Use sturdy boxes that are specifically designed to storage fragile items.
Wrap all breakable items separately in tissue or packing paper, box and ensure they are marked "Fragile".
Protect fragile items by wrapping them individually in packing paper (newspaper can stain goods and the ink may be hard to clean once goods are removed from storage).
Placing extra packing in the top and bottom of cartons can aid in protecting your goods.
Plates, saucers and bowls should be stacked on their sides to prevent breakage.
Any voids in boxes should be filled with packing paper to prevent movement.
Ensure boxes containing fragile items are not stacked under heavy items/boxes.
Pictures and mirrors should be stored in cardboard or purpose built cartons.
Electronic Items
The original boxes are the best type of packaging to use for electronic items.
If the original boxes are not available your removalist should be able to provide packaging to aid in storage of these items.
Metal Items
Clean and wipe items such as tools in a few drop of oil before storing (do not use food oil).
Chrome and cast iron should be cleaned and wiped with a little machine oil to help retard rust.
Ensure these items are placed away from goods that may be scratched or stained such as furniture.
Wrap Silver items in NON ACID tissue paper or plastic bags to reduce tarnishing.
What you Can't Store
You should not store any Goods that are hazardous, illegal, stolen, inflammable, explosive, environmentally harmful, perishable or that are a risk to the property of any person. This includes items like petrol tins, paint thinner, full gas bottles or chlorine.